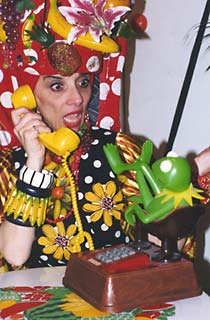 Darling,
I know you have been dying to talk to LuLu LoLo.
Maybe you want to ask LuLu some earthshaking questions:
Is it OK to wear polka dots after Labor Day?
Does LuLu LoLo really love insects?
In what movie is Lucille Ball's character named Bubbles?
Who inspires LuLu LoLo?
Where in Paris does LuLu LoLo like to play hide and seek?
Why is there only one LULU LOLO?!
Email me about anything dear to your heart OR just to talk about superstitions, Paris, shopping, hats, shoes, fashion, movies, art, museums, books, chocolate, France, Italy, Brazil, and all places exotic...the list is endless.
Love and Kisses from LuLu LoLo